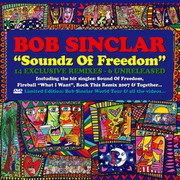 01. Sound of freedom ft Gary Pine & Dollarman
02. Rock this party 2007
03.What I want by Fireball
04. Hard 4:00
05. Kiss my eyes (Cubeguys remix)
06. I feel for you (Axwell remix)
07. Everybody movin' (K. Maverick & E. Thoneick remix)
08. Everybody movin' (Guy Schreiner remix)
09. Ultimate funk ft Big Ali (Tocadisco remix)
10. The beat goes on (Mousse T remix)
11. Champs Elys?es theme (Jamie Lewis remix)
12. Tribute ft Michael Robinson & Ron Carroll
13. Together ft Steve Edwards
14. Give a lil' love (Erik Kupper remix)
Visa informacija naujienoje matoma tik VIP nariams.
<<< Tapk VIP nariu >>>