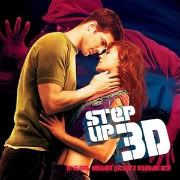 1. Club Can't Handle Me - Flo Rida (Feat. David Guetta)
2. My Own Step - Roscoe Dash & T-Pain (Feat. Fabo)
3. This Instant - Sofia Fresh (Feat. T-Pain)
4. Already Taken - Trey Songz
5. This Girl - Laza
6. Fancy Footwork - Chromeo
7. Beggin' - MadCon
8. Up - Jessie McCartney
9. Bust Your Windows - Jazmine Sullivan
10. I Can Be A Freak - Estelle
11. Whatchadoin' - NASA
12. Tear Da Roof Off - Busta Rhymes
13. Move If You Wanna - Mims
14. Irresistible - Wisin y Yandel
15. Let Me C It - Get Cool (Feat. Petey Pablo)

Bonus:
Ballin' by Roscoe Dash featuring Kalio
Come Fly Away (Maurizio Gubellini Remix)by Benny Benassi featuring Channing
Come Fly Away by Benny Benassi featuring Channing
Dream Awake by Lauren Evans
Electronic (Remix) by TQ featuring The Vill
I Wanna Dance with You by Transporta
Jump by Flo Rida featuring Nelly Furtado
Maniac by Girlicious
No Te Quiero (Remix) by Sophia del Carmen featuring Pitbull
Squeeze It by DJ Frank E featuring Dada Life and T‹esto
Take Your Shirt Off by T-Pain
Visa informacija naujienoje matoma tik VIP nariams.
<<< Tapk VIP nariu >>>